News Archives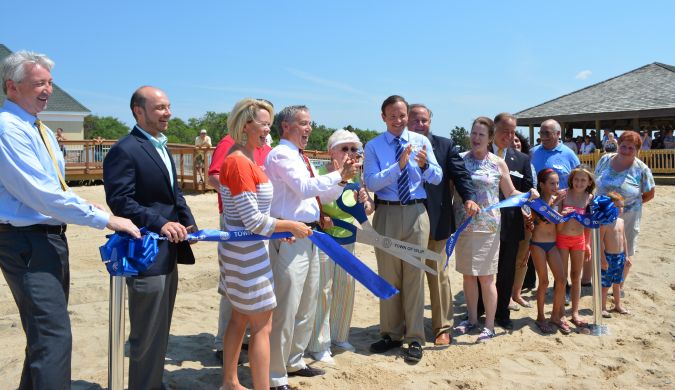 Beach Reopens After Super Storm Sandy Devastation

Islip, NY – There was much to celebrate in the Town of Islip today, with the long-awaited and much anticipated grand re-opening of Islip Beach, located at the end of South Bay Avenue in Islip. Supervisor Tom Croci was joined by Town Board Members in cutting the ribbon to the new and improved facility that had suffered devastating damage from Super Storm Sandy in October, 2012.
To view the photo gallery from the Islip Beach Re-opening, click here.
To watch the YouTube video of the ceremony, click here.

"We stand here today to reopen one of our greatest treasures here in the Town of Islip," said Supervisor Croci. "Islip Beach has a long and important history in our community, and is a special place for so many of us. The overwhelming damage incurred here was a great concern to all Town officials, and getting it open and operational for residents to use as quickly as possible was important to each and every one of us."

Councilman and Parks Liaison Anthony Senft echoed Supervisor Croci's sentiments. "Good government was at the forefront of every decision made relating to this massive reconstruction project. And by working together, today we open the gates to a new and improved Islip Beach."

Islip Beach, which was donated to the Town by the Havermeyer Family, opened in 1960, and has served as a bathing beach for decades. Before Super Storm Sandy, it featured a concession stand, pavilion, playground, restrooms, outdoor shower and gazebo. The October 2012, hurricane wreaked havoc on the popular bay beach, causing nearly $2 million in damages, which included the uprooting of the concession from its foundation, unusable and unsafe boardwalks, and a beachfront strewn with storm debris.

The Town Board approved the reconstruction project in May 2013, awarding the contract to Bensin Contacting, the lowest responsible bidder. Work at the beach began almost immediately, and included the demolition of the concession, reconstruction and repair of boardwalks, the pavilion and gazebo, the installation of some new playground equipment, as well as a major cleanup of the bay and beach.

"Despite a blizzard, unending rain, and incredible heat, the Town forged ahead with reconstruction to create an even more beautiful beach," Councilman Steve Flotteron said.

The new Islip Beach now boasts a concession facility that includes handicapped bathrooms, showers and ramps and that is equipped with an energy efficient lighting system. Ramps, railings, and boardwalks are made from Ipe wood, a dense Brazilian hardwood that is used for its durability, performance and density, and that is naturally fire, insect, moisture and movement resistant. The cost of the project is $1.76 million, with the majority of funding to come from FEMA.

"We thank Islip residents for their patience during this recovery period as we have worked to improve our Parks and Recreation system, post-Sandy," said Councilman John Cochrane, Jr.

"The devastation to Islip Town as a whole was mind boggling," noted Councilwoman Trish Bergin Weichbrodt. "Islip Beach was one of several Town facilities in need of major repair caused by Super Storm Sandy. Slowly, surely and responsibly, we are chipping away at the damage in a concentrated effort to give Islip residents back the Town that they know, love and deserve."